Towers Field on the campus of the University of Rochester will be the setting when the Lake Monsters and Monarchs meet to decide the champion of the Interstate Collegiate Baseball League. The best-of-three series opens Wednesday with a 5:30 PM first pitch scheduled. Game two will follow Wednesday night with game three (if necessary) scheduled for Thursday.
The Matchup
The Lake Monsters (19-10) closed the season on a four-game winning streak (won eight of last 10) to claim the regular season divisional title. The Monarchs (17-13) had won three of four before dropping their regular season finale to the Lake Monsters. The Monarchs advanced to the ICBL Championship Series with a 7-1 win over the Flyin' Fish.
Season Series
The Lake Monsters took the season series 8-4 including winning the last six head-to-head meetings.
Game One Starters
Lake Monsters: Hayden Ewell (So. New Hampshire/3-1, 4.83)
Monarchs: Jared Wren (St. John Fisher College/3-2, 4.46)
Ewell struck out 37 in 33.1 innings of work during the regular season. Opposing batters hit .220 against the right-hander. Throwing a personal best five innings, Ewell notched the win in an 11-4 victory over the Flyin' Fish on July 18th. He notched his first win of the season on June 25th when he allowed one run on three hits over 4.1 innings in a 10-2 victory over the Monarchs. In his most recent appearance against the Monarchs, he could not get an out in an 8-3 win.
Over 31.1 innings, Wren has fanned 28 while walking just 16 batters. The right-hander took a no-decision in his final appearance of the regular season on July 19th when he allowed four runs (three earned) on two hits over 5.1 innings against the Flyin' Fish. He hurled a season-high six innings on June 24th in a 5-2 win over the Snow Dogs. Wren is 0-2 against the Lake Monsters. He struck out six but allowed three runs on four hits over four innings in a 7-5 loss to the Lake Monsters on June 28th.
VIEW MORE SUE KANE PHOTOS HERE.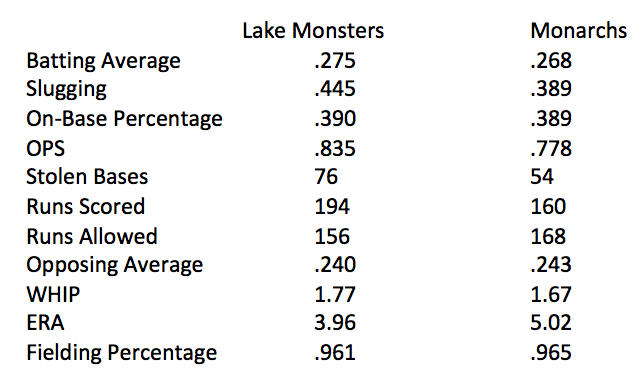 Top Hitters
The ICBL Championship Series pits the league's batting average leaders with the Lake Monsters Jonathan Catapano (Grand Valley State/Monroe CC) and the Monarchs Stephen Kemp(Medaille College) finishing the season at .362. Both had 25 hits in 69 at bats. Catapano compiled 12 extra-base hits, 15 walks and a league-leading on-base percentage of .494. Kemp collected four extra-base hits with 14 walks and an OBP of .476. Kemp, though, struck out six times to Catapano's 15.
Players to Watch
Lake Monsters – Nate Chase (Grand Valley State – .316/5 HR*/ 18 RBI/22 R**), Zach Harter(.328/18 BB*/16 RBI), Jake Hewitt (St. John Fisher College – 2-1/2.58 ERA/21.2 IP/ 19 K), Donnie Moffat (St. Bonaventure University – 6.2 IP/0.00 ERA/10 K), Dom Palma (Manhattan College – 3 HR/ 14 RBI/ 10 BB), Brennen Smith (Monroe CC – .316/0.67 ERA/10.1 IP/20 K), Tyler Smith (Niagara County CC (5*-1/32.0 IP/15K), Max Troiani (Bentley University – .457#/12 R) and David Stirpe (Messiah College – .273/10 SB).
Monarchs – Tanner Cooper (Finger Lakes CC – 8 extra-base hits/10 RBI/39.0 IP/61 K/2.87/2-1), Tyler Cyrus (John Carroll University – .304), Mike Donofrio (Brockport College – 4-2/29.1 IP/ 26 K/16 BB), Sean Flannery (King University – 9 extra-base hits/14 RBI/8 SB), Brandon Henshaw (St. Bonaventure University – .282/3 HR/ 20 RBI*), Mike Jamele (Merrimack College – .321/.446 OBP), Ryan Kalbfus (Gannon University – .360/4 HR/12 RBI/.484 OBP/1.184 OPS), Quin Ignaszak (Bethel – 23.2 IP/2.95/27 K/8 BB), Mike Magnanti (St. Bonaventure University – .328/14 R/15 BB/8 SB/.463 OBP), Cole Penders (Brockport College – .321/16 R/10RBI) and Mike Sabatine (University of Maine – 17 R/11 SB)
*League Leader
**Tied for the league lead
#Did not qualify for league lead based upon minimum at bats
Schedule
Game 1: Monarchs vs. Lake Monsters 5:30 PM University of Rochester, Wednesday 7/25
Game 2: Lake Monsters vs. Monarchs 8:15 PM University of Rochester, Wednesday 7/25
Game 3 (if necessary): Monarchs vs. Lake Monsters 5:45 PM University of Rochester, Thursday 7/26